The Real SonicEdit
The Real Sonic(®) is a animator on domo.goanimate.com with 191 fans and is a fan of +29. First named kcolson10 and 11(when age turned to 11),he mostly made videos of domo, which didn't give him much fans. When he learned about props he started to make more prop videos than domo videos. His fan base shortly grew, probably because of his name which wouldn't make sense about his video titles. He was helped by his friends The Real Kirby(®), and R.D.M(Random Domo Movies). His name was changed from kcolson 11 into The Real Sonic. His Fan base grew every day and he gained even more fans...Although, he has had some antagists, and we don't mean Dr. Eggman. Usually trolls like Hater32( Even though he got hacked), Mr. Pedo bear(Banned), but never had any bad videos made of him. But with the help his friends, he learned to ignore stupidity.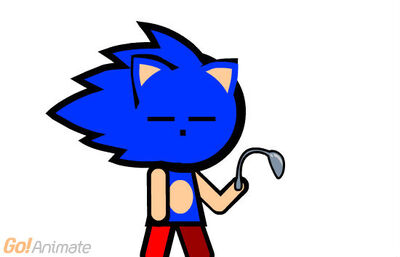 The Real Sonic joined in the early summer of 2011. He was never old to animating, he mostly played ROBLOX before he knew about Domo. He only made videos about Domo. They recived at least 20 or more views but he recived no fans. He thought if he put his videos on Google plus then it would give him more fans. He recived 3 fans in one week. He wasn't satisfied with his views so eventually he learned how to make prop animations.They give him even more views. He recived 45 fans, eventually. He still wasn't satisified.He realsised he needed to improve his character models, and videos. Stop motion was his next idea, and the video of sonic vs shadow stop motion recived or 100 views. He started doing stop motion ever since. He also made an advertisement for the glasses loid club. That also recived 100 views. He made a video called Gangnam style that is now in the top animations section. But he still has more than one video either in the most views section or top animations section. His most recent sonic show is Domo animate epilouges which is on a hiatus for a while which will be coming back some time in May. The show is at least reciveing +400 views. And his recent show is The adventures of odd kooloon in roblox. it is reciveing at leaste +200 views. He is still animating today, one hater at a time.--The Real Sonic (talk) 13:56, April 29, 2013 (UTC)The Real Sonic
Ad blocker interference detected!
Wikia is a free-to-use site that makes money from advertising. We have a modified experience for viewers using ad blockers

Wikia is not accessible if you've made further modifications. Remove the custom ad blocker rule(s) and the page will load as expected.